Nuts cannot be missing from our daily diet* and including them in your diet is much easier than you think. Especially with the mixes that we prepare at Grau nuts. Thanks to our experience, we can offer you mixed nuts on demand. *Except for allergens.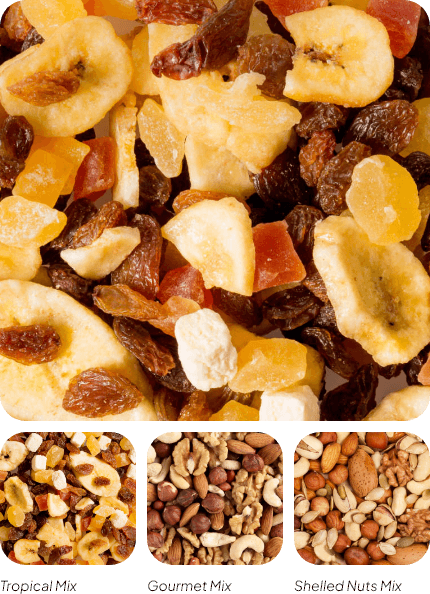 Types of mixed nuts available
Tropical Mix
Gourmet Mix
Shelled Nuts Mix
Tropical Mix


Gourmet Mix


Shelled Nuts Mix
We have the productive capacity to adjust to the preferences and needs of our clients, preparing customised products. These are the mixtures that are most requested:
Healthy benefits
of Mixed Nuts
Here are some of their
benefits:
Healthy fats
Rich in protein
Low in carbohydrates
They contain more fiber than any other nuts
They contain vitamin E and Vitamin B2
Rich in calcium, magnesium and phosphorous
Contact us for a customized
They are a tasty, economical and rich snack for snacking between meals.
The roasted broad beans are available in two different sizes.
Roasted chickpeas are a great source of healthy protein and are a very complete food, loaded with nutrients.
Our Commitment
to the Planet
In Grau nuts we care for the planet. For this reason, we work daily towards sustainable local practices that help reduce our environmental footprint, including reducing our energy consumption through solar panels and seeking other ecological means for optimal production and delivery of our products.