Almonds are one of the most nutritious nuts on the planet
, with a sweet delicate flavor and infinite healthy properties. As an almond supplier, Grau nuts offers multiple products and solutions for both bulk and packaged almonds.
Our factory prepares raw, roasted and roasted salted almonds according to each customer's needs.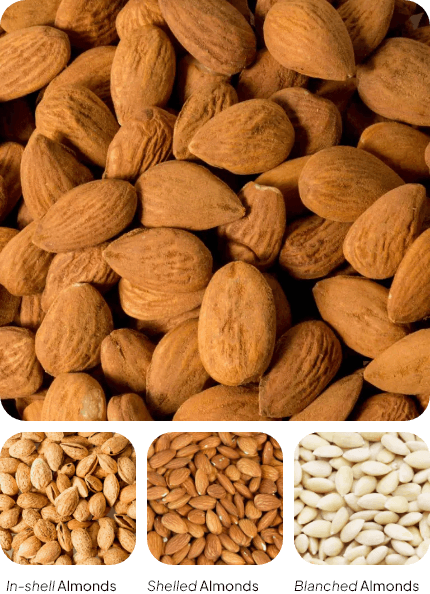 Types of almonds available
In-shell Almonds
Shelled Almonds
Blanched Almonds
Almonds are prized for their multiple health benefits and culinary uses.In-shell almonds are normally served as a snack. The shell must be removed manually before eating. In-shell almonds cost lessse we can offer more competivive prices.
At Grau nuts, we also offer shelled almonds which can be eaten directly in their characteristic brown skin. Our almonds are grown locally although we also import the best varieties from the United States.Blanched almonds are the most exquisite. They come without their skin thanks to an additional process that barely affects this nut's nutritional value.
Raw
Almonds
Roasted
Almonds
Roasted salted
Almonds
We work on demand at
Grau nuts
, listening to your needs and customizing your products. Here are our
most usual ways of preparing almonds:
Healthy benefits
of almonds
Almonds help to strengthen bones, hair, skin and they are good for the heart, as recommended by the Spanish Heart Foundation.
Here are some of their
benefits:
Healthy fats
Rich in protein
Low in carbohydrates
They contain more fiber than any other nuts
They contain vitamin E and Vitamin B2
Rich in calcium, magnesium and phosphorous
Contact us for a customized
Considered exquisite due to their smooth, sweet flavor, cashews are actually seeds.
Our Commitment
to the Planet
In Grau nuts we care for the planet. For this reason, we work daily towards sustainable local practices that help reduce our environmental footprint, including reducing our energy consumption through solar panels and seeking other ecological means for optimal production and delivery of our products.