Pumpkin seeds are a great source of fiber, vitamins and minerals, perfect for a healthy diet. At Grau nuts, we offer and make many varieties of pumpkin seeds , with an extensive product range.

Our factory processes, packages and packs pumpkin seeds for all types of markets and customers, including importing large product volumes. We supply bulk pumpkin seeds or ready-to-sell formats. Thanks to our vast experience in exporting pumpkin seeds, we can offer top quality for wholesalers, distributors and retailers, always adapting to any customer needs.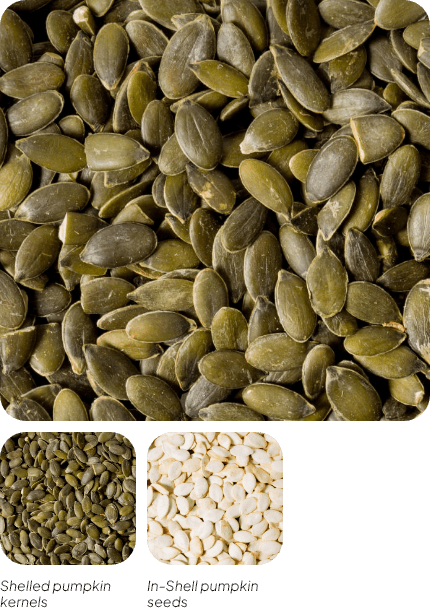 Types of pumpkin seeds available
In-shell Pumpkin Seeds
Shelled Pumpkin Kernels
Pumpkin Seeds Description
Pumpkin seeds have got it all, nutritionally speaking, and they can be eaten on their own as a snack, and also tossed into healthy dishes such as salads and soups. Many recipes include pumpkin seeds to substantially enhance their flavor and nutritional value.
In-shell pumpkin seeds are a popular snack, eaten in the same way as sunflower seeds in their shells: biting them one by one, removing their shell before eating, making them great to share during downtime with family and friends.Shelled or peeled pumpkin seeds are also available in bulk or in any type of packaging our customers might require. Peeled pumpkin kernels are much easier to eat as the shell has already been removed. They are perfect on their own or as an extra ingredient in delicious dishes.
Shelled Pumpkin Kernels


In-Shell Pumpkin Seeds
Pumpkin Seeds preparations
We work on demand at Grau nuts, listening to your needs and customizing your products. Here are our most usual ways of preparing pumpkin seeds:
Healthy benefits
of Pumpkin Seeds
Pumpkin seeds are nutritionally complete. Rich in Omega 3, they are a great source of minerals and vitamins A, B, C, D and E and a comfort for our nervous system. A super-food with a vast number of beneficial health properties.
Here are some of their
benefits:
Antioxidants


They lower cholesterol


Anti-inflammatory properties


They contain tryptophan, which helps you rest and alleviates stress


They strengthen our bones, thanks to their high calcium and magnesium content
Contact us for a customized
Sunflower seeds in their shell are one of Spain's most popular snacks and also a lot of fun to eat.
Our Commitment
to the Planet
In Grau nuts we care for the planet. For this reason, we work daily towards sustainable local practices that help reduce our environmental footprint, including reducing our energy consumption through solar panels and seeking other ecological means for optimal production and delivery of our products.